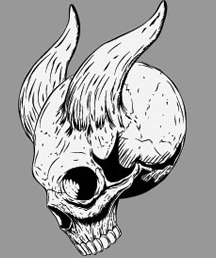 (Crest: Horns would be red, Skull would be black)
Name:
Oni
Current Leader:
Sentō-ki Oni
Values:
Loyalty, all member should be loyal or risk termination. Power, if you're chosen and fail to prove your worth you also risk termination.
Distinct Physical Features:
The Oni are commonly known for having one or two horns growing from their forehead and red eyes.
Renown:
Their reputation for shinsoo strengthening is tower-wide due to their great ability as warriors.
History:
The founder of Oni was one of the first warriors to enter the tower an become a ranker. He was known for his fierceness in battle and shinsoo strengthening easily able to devastate other rankers and tests. He eventually gather a few more warriors and they all had their children creating the family blood line and their power. Every-time a new group of children are born the leaders of the family choose who they want to support and that is final. After receiving blessings those who were chosen are supported through all and any type of training they wish to increase their chances in climbing the tower, those who did not receive the blessings are exiled.
_________________